Welcome to the new-look GSA website! With this launch, we are also signaling the beginning of a new relationship with the Johns Hopkins University Press. The Press is now handling all membership and dues matters, and is also publishing and distributing the German Studies Review and the printed conference program.
At its meeting in Louisville in September 2011, the GSA Board approved modest dues increases for some, but not all, categories of membership. Regular memberships for North American residents will increase by $15, from $55 to $70, while dues for non-North American residents will increase from $65 to $80. Joint memberships will increase by $10, from $80 to $90. The dues for all other membership categories will remain unchanged. Conference registration fees will also remain unchanged from 2011.
We are extremely excited about these new developments. The new website will have a sleeker, less cluttered look, and we hope it will be easier for you to navigate. At first you will notice some changes in the procedures for paying your annual membership dues. In early January, all current and recent members should have received an e-mail from the Johns Hopkins University Press describing the procedure to create a new user name and password to access the site. But, believe me, this process will be much simpler than it was in the past. The website will also include an extensive FAQ pagefor your reference.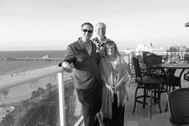 The GSA Executive Council recently concluded its annual winter meeting in Clearwater Beach, Florida, under the direction of President Stephen Brockmann (pictured at right with GSA Executive Director Prof David E. Barclay and German Studies Review editor Prof. Sabine Hake). We met for two solid days, during which we reviewed the status of every aspect of the association as we undertake this significant transition.
We're also busily planning for the Thirty-Sixth Annual Conference, which will take place in Milwaukee, Wisconsin, from October 4-7, 2012. Conference submission procedures, for individual papers and for complete sessions, will remain unchanged. Even though you'll access the online submission features from the new website, the entire process will remain basically unchanged, and you should notice no differences from the past. As in the past, all proposals must be submitted no later than February 15, 2012.
After a decade of superb stewardship under Professor Diethelm Prowe, the GSR is now being edited by Professor Sabine Hake of the University of Texas at Austin. The February 2012 issue will be the first edited under her aegis. Like the website, it has been physically redesigned in conjunction with the Johns Hopkins University Press. Thanks to our new association with the Press, GSR readers will enjoy unparalleled access to such benefits as the online version of GSR in Project MUSE.
We hope that you share our excitement about the new possibilities that are opening up to us thanks to our association with the Johns Hopkins University Press. If you have questions or concerns, please do not hesitate to contact me. For technical or related issues, please contact Charles Fulton at our Help Desk. And for membership matters, please contact the JHU Press Customer Service Department or our secretary/treasurer, Professor Gerald Fetz.
We look forward to hearing from you, and to seeing as many of you as possible in Milwaukee!
With all best wishes for a happy and productive 2012,
Professor David E. Barclay
Executive Director